SILVIA MARCOVICI
2CDs+1DVD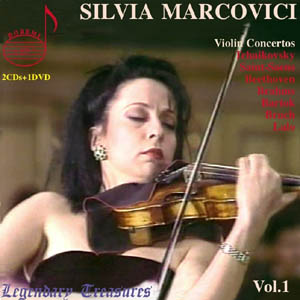 DHR-7942-4
Tchaikovsky: Concerto for Violin and Orchestra in D major, Op.35
SWR Sinfonieorchester, Freiburg, Cristian Mandeal, conductor
Live performance: May 1996
Brahms: Concerto for Violin and Orchestra in D major, Op.77
Südfunk Sinfonieorchester, Stuttgart, Garcia Navarro, conductor
Live performance, February 12, 1988

Beethoven: Concerto for Violin and Orchestra in D major, Op.61
Hessicher Rundfunk Orchester, Frankfurt, Eliahu Inbal, conductor
Live performance, October 1979
Saint-Saëns: Concerto for Violin and Orchestra No.3 in B minor, Op.61
Saarländischer Rundfunk Orchester, Saarbrücken, Marcello Viotti, conductor
Live performance, June 27, 1993
DVD
Lalo: Symphonie Espagnole for Violin and Orchestra, Op.21
Bucharest George Enescu Philharmonic Orchestra, Cristian Mandeal, conductor
Live performance, 1994

Bruch: Concerto for Violin and Orchestra No.1 in G minor, Op.26
Bucharest George Enescu Philharmonic Orchestra, Horia Andreescu. conductor
Live performance, 1990. Conductor unknown

Bartok: Concerto for Violin and Orchestra No.2
Budapest Radio Orchestra, Erich Bergel, conductor
Live performance, 1991

Regarded as the most important violinist to come from Romania since George Enescu, Silvia Marcovici was born in Bacau on January 30, 1952 and started violin lessons at the local music school. Later she studied at the Bucharest Conservatory with Stefan Gheorghiu (himself a pupil of David Oistrakh), whose influence was essential in the shaping of her technique and style. Her concert career began at 13, when she appeared in several concerts and on Romanian State Television. Her international career was launched at the of age 16 when she was invited to play with The Hague Philharmonic under Bruno Maderna.
In 1969 she won the first prize in the International Long-Thibaud Competition held in Paris. Also in1969, she was awarded the Special Prize for the interpretation of a contemporary work at the Prince Rainier Competition in Monaco. The following year she was awarded the first prize at the George Enescu International Competition.
In 1971, following a solo engagement with the London Symphony Orchestra, she was invited by Claudio Abbado to play the Bartok's second Violin Concerto with the La Scala Orchestra. That concerto became closely associated with her.
Following her first American tour in 1972, Leopold Stokowski chose her to be the soloist for his farewell concert with the London Symphony Orchestra at The Royal Albert Hall, London. This historic live performance was recorded and released by Decca.
She has since toured extensively, appearing as soloist with almost every major orchestra in the world and collaborating with the likes of Eugene Ormandy, Erich Leinsdorf, Bernard Haitink, Andre Previn, Klaus Tennstedt, Claudio Abbado, Simon Rattle, David Zinman, Eliahu Inbal, Riccardo Muti, Kurt Mazur, Daniel Barenboim, Zubin Mehta, Neeme Jarvi, Sergiu Comissiona, Jesus Lopez-Cobos, Michael Gielen, and Mstislav Rostropovitch. Her partners include pianists Valentin Gheorghiu (with whom she recorded the Beethoven sonatas), François-René Duchable, Pascal Rogé, Boris Berezovsky, Bruno Rigutto, Itamar Golan, Dominique Merlet and recently her son, Aimo Pagin, and cellists Lynn Harell, David Geringas, Antonio Meneses, and Boris Pergmaentshikov.
Ms Marcovici's repertoire ranges from Bach to contemporary music, with a predilection for the Romantic and post-Romantic. She has premiered several concertos, among them by Hans Kox and by Antonio Perez-Ramirez. Friedrich Gulda also wrote a concerto for her.
She belongs with the handful of great women violinists who have left a deep impression on the musical world of the 20th century, alongside Ginette Neveu, Erica Morini, Johanna Martzy and Ida Haendel. Together with her absolutely impeccable technique, she displays a warm sonority ranging from powerful to the most intimate and meditative. The London's Daily Telegraph described her playing as "Beautiful, perfect, with genuine eloquence and feeling."
She has been a member of the jury of several international competitions and is currently a professor at the Kunst Universität in Graz, Austria.
Ms Marcovici's extensive recording career began in 1972 in Romania, with concertos by Bruch (No.1) and Glazunov. Her recent recording of the Sibelius concerto with Neeme Järvi and the Nielsen concerto with Yoël Levi have received international acclaim. Presented here for the first time are several milestones of her repertoire in live performances.