FRANK PELLEG
DHR-7813/4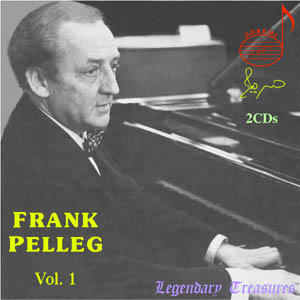 Vol. 1
CD1 - As Harpsichordist
J. S. BACH:
Duets, BWV 802 - 805 Recorded. c.1951
Goldberg Variations, BWV 988. Live Broadcast. c.1959
Brandenburg Concerto No.5 in D major, BWV 1050
with Peter Rybar - violin, Peter Lukas Graf - flute,
Winterthur Symphony Orchestra, Walter Goehr conductor. Recorded c.1952

CD2- As Pianist
F. MENDELSSOHN:
Concerto for Piano and Orchestra No.1 in G minor, Op.25
Winterthur Symphony Orchestra, Walter Goehr conductor
Serenade and Allegro Giojoso for Piano and Orchestra, Op.43
Netherlands Philharmonic Orchestra, Otto Ackermann conductor
Capriccio Brillant for Piano and Orchestra in B minor Op.22
Winterthur Symphony Orchestra, Walter Goehr conductor
C. DEBUSSY: Fantaisie for Piano and Orchestra
Netherlands Philharmonic Orchestra, Walter Goehr conductor
Recorded c.1951
Frank Pelleg, (Born Frank Pollak, Prague, September 24, 1910 - Haifa, September 20, 1968) a pianist, harpsichordist, composer, musicologist, conductor, philosopher and a teacher - is clearly one of the most illustrious musicians of the 20th century. He studied musicology and philosophy at the Prague University (1929-1931) and was a Prize Winner at the 1939 International Competition in Geneva. Pelleg soon became known as a piano soloist working with such conductors as Otto Klemperer, Antal Dorati, Jascha Horenstein, Paul Paray, Václav Talich, Sergiu Celibidache, Bernardino Molinari, Igor Stravinsky, Sergiu Comissiona, Charles Bruck, Otto Ackermann, Walter Goehr, Nicolai Malko, Otto Selberg. George Singer, Michael Taube, Erich Schmid, Gary Bertini, Mendy Rodan, Heinz Freudenthal, André Jouve and Heinrich Jacob and such performers as Zino Francescatti, Szymon Goldberg, Max Rostal, Peter Rybar, Oeden Partos, Daniel Barenboim, Yona Ettlinger, Joachim Stutschevsky, Jennie Tourel and Alfred Deller.
Following his immigration to Israel in 1936, he became a frequent guest of the Israel Philharmonic Orchestra. He toured and played in all the European capitals, USA (including the Boston Symphony Orchestra), South America, and Japan.
As a musicologist he published many articles and a book. He was a commentator on the Israeli Radio, taught at the Academy of Music of Tel-Aviv and Haifa Universities and at the Technion in Haifa. He became a resident of Haifa in 1951 by invitation of the city Mayor, and was appointed as the music director of the Haifa Symphony Orchestra.
With the establishment of the State of Israel, as a result of his fame as an educator, he was invited to head the Music Department of the Ministry of Education. In this role he directed musical activities in Israel, and organized among others, the yearly Israel Music Festival.
In addition to his expertise in the performance of Bach and the Baroque era, he was equally a brilliant performer of the classical period and a champion of new music, particularly of Israeli composers.
He was a remarkable, delightful and a charismatic person, an original with a great sense of humor, superb communication ability and had an amazing memory (he could perform most of Mozart's piano concertos on a moment's notice from memory). Always active with relentless enthusiasm, his untimely death at the age of 57 was a sad event to all who knew him and the entire musical world.